Welcome to Common Bond Title!
We're proud to service all residential and commercial real estate deals throughout Alabama.
Common Bond Title is Here for You!
Common Bond Title, LLC is a customer-focused title insurance and real estate closing services company. We have served our customers with integrity and service excellence since 1997. We offer industry expertise, personalized service, and customized solutions for virtually any type of Real Estate transaction. Make Common Bond Title, LLC the preferred real estate services provider for customers around the State of Alabama. Yes, we can handle your real estate transaction anywhere in the State of Alabama. Our mission is to serve the banking, credit union, legal and real estate communities in the state of Alabama by providing an accurate product, timely at a fair price.
Common Bond Title passes new certification standards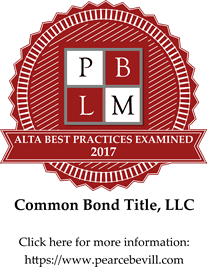 300 Office Park Drive, Suite 230
Mountain Brook, AL 35223